Network Solutions
Structured Cabling System (SCS)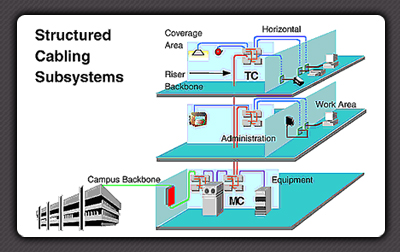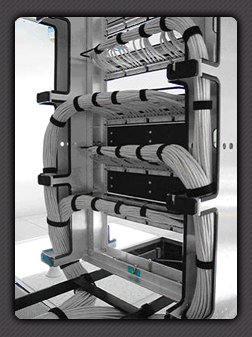 A structured cabling system (SCS) is a set of cabling and connectivity products that integrates the voice, data, video, and various management systems of a building (such as safety alarms, security access, energy systems, etc.).
An SCS consists of an open architecture, standardized media and layout, standard connection interfaces, adherence to national and international standards, and total system design and installation. Other than the structured cabling system, voice, data, video, and building management systems (BMS) have nothing in common except similar transmission characteristics (analog or digital data signals) and delivery methods (conduit, cable tray, raceway, etc.) that support and protect the cabling investment. This tutorial discusses the elements of a structured cabling system and the operational advantages such an approach may enable.
Figure indicates, typical costs for building operation and alterations over a 40-year life cycle far exceed the initial construction costs. Proper systems-integration planning to optimize the construction process can reduce these ongoing life cycle costs.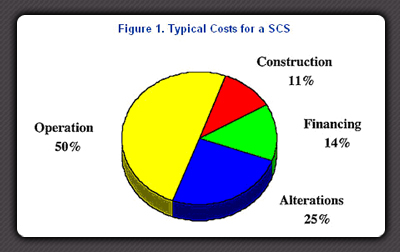 Advantages of Structured Cabling
From an investment point of view structured cabling provides an exceptional ROI. A structured cabling system will outlive all other networking components and will require only minimal upgrades. According to International Engineering Consortium:
Construction costs for the cabling of the voice, data, and BMS can be reduced by up to 30 percent when integrating the cabling and delivery methods.
Moves, changes, rearrangements, and upgrades can be performed more cost-effectively, with a potential savings of 25 to 40 percent for material and labor when using an open-office cabling approach.

LAN/WAN Solutions
Emerging technologies and the Internet are driving new business and communication opportunities at a rapid pace. Your network infrastructure, both Local Area Network (LAN) and Wide Area Network (WAN), is the foundation enabling these opportunities for your business. Whether you are integrating new technology with legacy systems, upgrading hardware and software (routers, switches, servers, etc.), performing bandwidth optimization or prioritizing network traffic, the challenge remains the same: balancing high performance and availability with reasonable costs.
EITL Provides the expertise, experience, and industry partnerships to help you match your needs to the right technology solutions. We design and deploy new LAN and WAN infrastructures that bring your business computing needs alive and meet your budget.
Local and Wide Area Network services include:
• Network Wellness Assessment
• Network traffic analysis and bandwidth optimization
• Remote office connectivity design and implementation
• Router and switch design, configuration and implementation
• Integrating new technologies with legacy systems
• Network management tools and procedures
• Converged technologies for Voice, Data and Video
• Fibre to the home Network Solutions
• Internet connectivity
Network Upgrade
Network upgrades are the result of software "end-of-life" issues (NetWare 4.2/5.0, Windows NT, etc.), high-speed and bandwidth needs, Internet and IP convergence solutions. Also, your industry has core applications that "run your business" and these software solutions have issues that require network upgrades. If the vast number of options to finalize on the best upgrade platform for your network is delaying your implementation, call on EITL. We provide you with the experts certified in the leading operating systems (Novell, Microsoft, etc.). We will build your new network with the knowledge gained from nearly Seven years of experience.